ConvertKit Review 2023: The Best Email Software For Creators?
In this epic ConvertKit review you'll discover why ConvertKit is one of the best email marketing software for online creators. 30 days free trial available.
Table of Contents
This is my in-depth review of ConvertKit email marketing software.
And YES, I would recommend you get ConvertKit if you're just getting started with email marketing.
I would also recommend it if you've been running your small business for some time, and you don't need a more advanced marketing automation and email marketing service (you'll find out all the details in this in-depth ConvertKit review + an extended free trial to get started).
I wrote this ultimate ConvertKit review and guide to help you understand how ConvertKit works and the exciting things you can achieve with it, including the pros, cons, and much more.
Over the years I've tried many different email marketing providers, and ConvertKit is hands down the easiest to use if you're just getting started with email marketing automation.
At the end, you'll have a chance to leave your own opinion of what you think of ConvertKit and this review so stick around for that.
This is an extensive in-depth ConvertKit review, and you'll find the table of contents below for easy navigations to the parts you're most interested in.
So without further ado, let's get into the review.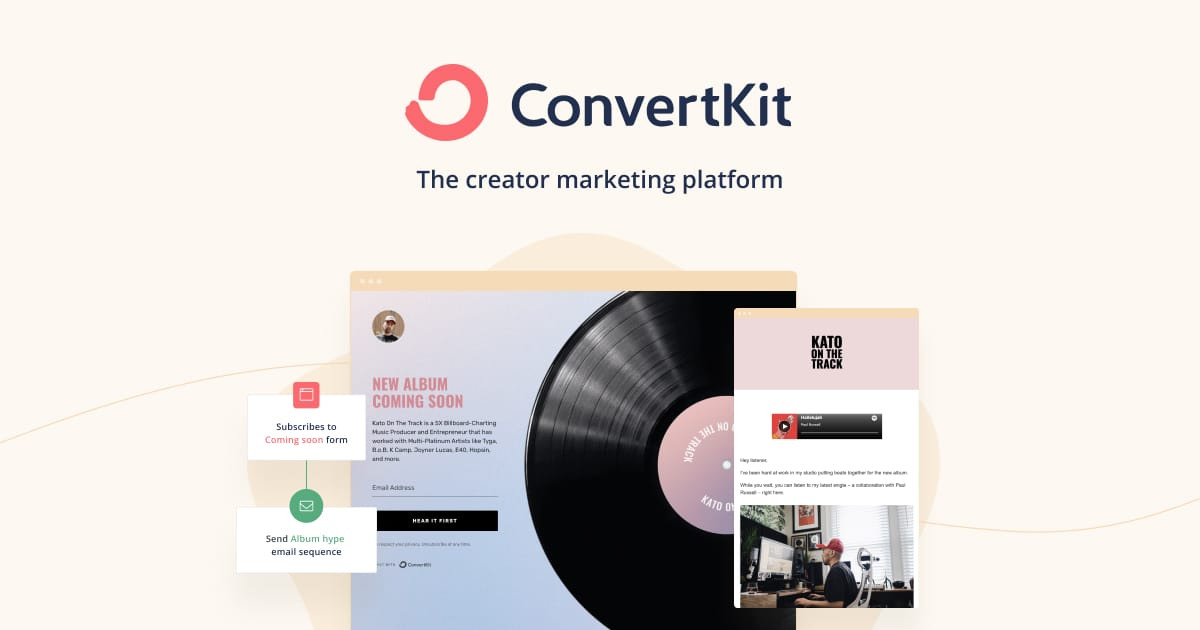 What Is ConvertKit?
ConvertKit is a powerful email marketing software that's created primarily for online creators such as bloggers, video creators, podcasters, freelancers, consultants, and other businesses that are building relationships with their audience.
You can use ConvertKit to create sign-up forms, build your email list, send personalized emails to your subscribers, and set up automations that works while you're asleep.
ConvertKit didn't start off as an email marketing software but publicly as a Web App Challenge which Nathan Barry announced on his blog on December 31, 2012.
The web app earned $6,000 in 6 months which made Nathan to fully launch the web app as an email marketing app in 2013.
Nathan is a good listener and only creates content, software, or live events that make people happy.
To prove it, a few months back, the company name was rebranded as Seva, but after listening to their audience and the online creators' environment, it's reverted back to ConvertKit.
From a humble beginning, Nathan Barry and his team grew ConvertKit to over $1.04 million in monthly net revenue with well over 19,700 active customers.
I'm sure that some of the influential online marketers and creators that you follow and read their blogs are using ConvertKit. For example, Pat Flynn, Joanna Wiebe, Mariah Coz, Derek Halpern, Neil Patel, Christie Inge, and so forth.
Reasons Why Online Creators Switch To ConvertKit
Even though there are more popular email marketing tools than ConvertKit, I noticed that online businesses and marketers who have been using those 'other' providers for years switched to ConvertKit.
Here are a few reasons I came across:
1. Increase email deliverability rate
If you're wondering why, here are a few reasons:
One reason why online marketers and creators are switching to ConvertKit is because it offers a high deliverability rate.
Deliverability rate measures the ratio of the number subscribers who receives your email compared to the total number of subscribers whom you sent the email to.
For example, if you sent an email to 3,000 subscribers, how many of them received it? That's what deliverability rate measures.
To prevent your emails falling into the "spam folder," ConvertKit recommends you use simple designs or basic designs.
That's why ConvertKit has a collection of simple email templates that are not heavy on images and graphics.
2. Subscriber tagging functionality
Since many tools don't offer this functionality, it's easy for creators to switch to ConvertKit.
ConvertKit makes it really simple to tag subscribers right on the "Subscriber" page via Bulk actions, inside the subscriber profile, or when they click links in broadcasts and sequences.
The goal is to drill-down on subscribers with similar interests so that you can send targeted messages to them and get results.
3. Visual automation builder
This is probably why some of my friends switched to ConvertKit.
Being able to create emails that goes out automatically to subscribers when specific actions are triggered is awesome.
With the ConvertKit's visual automations builder, you can set up rules and let the app do the work. It's the simple.
ConvertKit's Big Mission
According to Nathan Barry, the company has an exciting mission:
We exist to help creators earn a living online.
What's a creator? A creator might be a blogger, author, maker, YouTuber, poet, painter, musician, podcaster, chef, designer, or teacher. What binds the creators we serve together is that they make a living doing work that matters, and they earn that living online.
If this mission doesn't pique your mind, then you don't have to continue reading because the 'essence' of its existence is to help online creates make a living doing what they love.
On the other hand, if this mission aligns with your business culture and ethics, then you should seriously consider ConvertKit as your email marketing tool.
Is ConvertKit Right For Me?
It's a bold question to ask and a good one at that.
Many people believe that ConvertKit has all the features they require in their email marketing career. How true is this claim?
So who is ConvertKit for and who is it not for?
Let's cover this quickly below so we can move onto the good stuff in the in-depth ConvertKit review.
ConvertKit Is Right For You If:
You're a professional blogger, a website owner, or an author.
You're are a podcaster.
You're creating videos to reach people on YouTube and other platforms.
You have beginner or intermediate marketing skills.
You create, launch, and sell digital products.
You want to build a loyal community that supports you.
You want a simple and powerful email marketing solution.
You use landing page builders and membership platforms that you can integrate with ConvertKit.
ConvertKit Is NOT Right For You If:
You don't create any form of online content (e.g., blogs, summits, videos, podcast, etc).
Your business can survive without email marketing.
You need very advanced email marketing automation and CRM features.
You don't want to build a community.
You have zero technical skills for customizing opt-in forms and landing pages.
You don't own a blog, a website, a YouTube Channel, a Podcast channel, and you don't want to.
The Ultimate ConvertKit Review
For this ConvertKit review, I want to make it as actionable as possible so that see how it works in real life. In this section, I'll go over some of the things I like about ConvertKit and why I used it when I was just getting started in my online business.
I will also share ConvertKit alternatives and compare other email marketing tools to help you make an informed decision.
My Personal Favorite ConvertKit Features
Before I dive into the full ConvertKit review, I just wanted to take a moment and share my personal favorite ConvertKit features.
Here they are:
The intuitive interface is easy to use and allows me to easily customize opt-in forms and landing pages.
It's easy to navigate through the dashboard even if you're new to email marketing.
I can segment my email list based on user interests and how they subscribed to my list. For example, if I run a Facebook ad and I get email subscribers, I can place them on a different segment.
ConvertKit is fairly affordable compared to other options. Yet, I get all the automation and segmenting capabilities that most expensive email service providers lack.
Easy and detailed reporting helps me to keep track of how things are going, my open rates, click-rate, and opt-in conversions.
The simple workflows via Automation allows me to set rules for sending out specific emails when a subscriber or customer takes a particular action.
The drag-and-drop sequence builder makes it easy to create personalized automated emails to get more subscribers while scaling my business.
ConvertKit is subscriber-centric. That means I'm able to organize my subscribers from one list with segments and tags.
Easy concierge migration make it easy to switch from another email software to ConvertKit without losing a single subscriber or data.
ConvertKit answers my questions, host live training, conduct weekly workshops and calls on phone just to make their customers happy.
The text-based email allows me to add a personal feel to my messages and prevent spam filters. This increases open rates and click through rates.
Email deliverability rate is pretty high when I send emails with ConvertKit.
There are many more useful features and ConvertKit is getting better and better over time as well.
That being said, let's dive into a more in-depth ConvertKit review and take a look at some of the key features and benefits in more detail.
Review Of ConvertKit Key Features & Benefits
Are you excited to dive in deeper to some of ConvertKit's awesome features and benefits?
This ConvertKit review is based on my personal experience as I've used it in my business, and I still have an account I use for one of my lists as a backup to my main ActiveCampaign account.
The goal with this review is to provide as much information to you so you can make an informed decision.
Once you become a user, here are some of the features you can access instantly.
More features are being added periodically to ConvertKit, and I will make sure to update this ConvertKit review from time to time to make sure it's relevant to you (this one was updated November 2018).
1. ConvertKit Email Automations
Easy to use email automations is one of the defining factors that makes ConvertKit to stand out from the crowd.
If you set it up properly, automations will help you to automatically send targeted messages to your subscribers when specific actions or events are met.
ConvertKit has created simple but powerful automation that has unique workflows to grow your profits and revenue through email marketing.
Automation allows you to send timely and targeted content or offer to your subscribers by simply creating automated funnels. I'll show the options available for automation in ConvertKit.
Here's exactly how an automation works:
To begin setting up your automations, you head over to the automations page in ConvertKit.
If this is your first automation system, then you can watch the video on the page for a quick instruction.
Next, click on the "New Automation" button at the top right side of the page.
You'll land on this blank page.
Next, you need to use Visual Automations to add some text and triggers to your automation.
Visual Automations
Visual Automation is your map that shows exactly what happens to a subscriber that signs up, where they should start, and what sequences should be sent to them based on their interests.
Depending on how you set it up, automations allows you to send specific emails to your audience and customers based on the action they've taken.
Behind ConvertKit sequences, you can use events, actions, and conditions as building blocks to successfully create your automation emails.
Go ahead and select the first entry point, click the (+) button on the side to enable you add more entry points.
These follow "OR" logic, which means, if "this form or this tag" is triggered, the events that will drive the automation will begin for that subscriber.
That's what automation rules let you achieve.
For example, a subscriber who subscribes to the form on your blog can be the basic entry point.
Also, you could have another subscriber who receives a tag after buying your product. This tag could then trigger the automation as well. You can add as many rules as possible.
Automation rules work in various situations but what it can do using Visual Automations is limited.
After creating the automation, the next tab is rules. You can even create multiple points entry in the visual automations.
Since you have more options, you don't have to stick to one entry point per automation.
Depending on what you want to achieve, you could add multiple entry points by simply clicking the (+) next to your initial entry point.
To add even more entry points, click the (+) button, feel free to add up to 5 entry points in an automation.
Behind ConvertKit sequences, you can use events, actions, and conditions as building blocks to successfully create your automation emails.
ConvertKit provides an easy-to-use interface. Once you're able to manage your email campaigns with Automation, you can then use tags to segment your subscribers at a deeper level.
As an example, you could tag subscribers automatically if they open your 'welcome email' and click on the link within the body.
In turn, this action will trigger specific events to happen such as free trial to your software, subscription to your online course, and so on.
Navid's Note:
I like how easy you can navigate between creating individual email messages and building email automations. It's seamless!
The visual automation builder is one of ConvertKit's absolute best features, although there are still certain limitations. Sometimes it takes a few extra steps (or "hacks") to create more advanced email automations.
2. ConvertKit Opt-In Forms & Landing Pages
To drive your email marketing campaign and start adding subscribers to your list, ConvertKit has a wide array of high-converting templates you can choose from.
The form builder makes it really easy to create attractive opt-in forms and style your form.
Once you're done, copy the embed code and place it on your website.
Begin by selecting how you want to gather subscribers:
Then, select a form from the list and customize it using the Form builder
These web forms are mobile-responsive, which means they can work well on smartphones, tablets, and on any part of your web page: sidebar, above the fold, or even the footer.
Just make sure you set it up correctly using the form builder.
Although the form builder isn't drag-and-drop, it's still very much intuitive and you can quickly understand how to use it to build multiple forms for your website or landing page.
Below you can see an example of what a simple ConvertKit landing page looks like.
The beauty of ConvertKit is that you can connect your form to a sequence since both of them were designed to work together.
You can engage subscribers who opt in to your form by dropping them into a welcome sequence, for example.
If you currently have no visual automation set up in your account, you'll need to do that first.
From the automations page in the navigation bar, click New Automation, in the top right of the page.
You'll then see a page where you can click Create New Automation to select your entry point for this automation. This step is important because it'll trigger subscribers into this automation.
Having done that, follow this simple steps to connect your form to a sequence.
Select Joins a form to create a form entry point.
Click the (+) to quickly add an Action.
Select Email Sequence.
From the list, search for an existing sequence or click Create Sequence to build a new one for this form.
Note: Automations save "automatically" so don't worry about saving your work.
Navid's Note:
I like that it's fairly easy to customize, and the visual automation builder makes it easy to connect a form to a sequence. However automations are still pretty basic (although I know they are working on making things even better).
3. ConvertKit Integrations
ConvertKit integrates with a lot of platforms such as ThriveCart for your shopping cart and affiliate management system.
It also integrates with one of the top online course platforms, Teachable. Teachable allows you to create and sell useful online courses to your target audience, starting with your email subscribers.
But that's not all...
All of your favorite platforms for landing page software (like ClickFunnels and Thrive Architect), lead capture (like OptinMonster and ThriveLeads), membership sites, surveys & quizzes, Facebook ads, tracking & analytics, email verification, and scheduling are equally supported on ConvertKit.
To sweeten the deal, if you notice that your favorite website platform isn't integrated directly, you can use Zapier to access hundreds of more integrations in real-time.
​​​​​The basic steps for integrating third-party tools with ConvertKit are similar. The only difference is when you're using Zapier to integrate some tools that aren't directly supported.
Here are the steps to integrate Teachable with ConvertKit. This should guide you on how to integrate the other tools:
Log into your ConvertKit account.
Click Automations.
Then click "Integrations" at the top right corner.
Click the Teachable icon on the next page. Then input your Teachable school's URL or course URL when prompted.
Click next to complete the process. You'll be prompted to click done. Note that you do not have to copy the callback endpoint URL.
To continue, click the icon in the top-right corner and click account settings.
Click the show button in the API section right on the account Info page.
Follow these quick steps to sync Teachable with ConvertKit:
Copy your API Secret.
Log into your Teachable school and navigate to Settings.
Click Integrations from the submenu.
Toggle on the ConvertKit integration.
Enter the API code you copied from ConvertKit in Step 4 and enter it into the ConvertKit API key field.
Click "Save" to finalize the integration. That's it. ConvertKit is now integrated with your Teachable School.
Navid's Note:
It takes a few simple clicks to integrate a platform. If your platform or tool isn't directly supported, you can use Zapier to integrate it.
4. ConvertKit Tracking & Reporting
Being able to track your campaigns and understand how your emails and automation sequences are working is critical.
Tracking and reporting is not exactly an area where ConvertKit shines, and it's missing some important features like bounce rate.
What they offer is probably enough for most of their users, but if you're marketing automation and want something more advanced and robust, ConvertKit currently doesn't offer that much.
That said, ConvertKit makes it easy to track clicks, email open rates, unsubscribers and subscribers for different campaigns. And it reports it separately so you don't get confused.
The ConvertKit's reporting tool allows you to track website statistics for your landing pages and forms. This will give you a complete picture. You get to know which signup form is getting the most subscribers and why.
How many people subscribed to your email list via the exit-intent popup form?
What percentage of your overall website traffic subscribed through slide-in forms?
What's the conversion rates for subscribers who claimed your incentives using the sidebar form?
All of these are important questions to ask. ConvertKit gives you total control of your contacts, campaigns, and sequences, which is great.
Form Graph Reporting
ConvertKit also offers a detailed reporting on forms and subscriber using graph features you can choose from within your account.
These are basically the subscriber graph and the form graph. In this section, I want to show you exactly how to read and utilize the form graph.
Go to your Forms tab and you'll see the Form Graph.
This particular graph helps you to measure how Forms are performing. It also tracks the number of opt-ins per day, for each Form.
You'll see 4 sets of numbers that explains it better:
TODAY is the number of opt-ins you have received today.
7 DAY is how many opt-ins you have received in the last 7 days.
30 DAY is the number of opt-ins you have received in the last 30 days.
TOTAL is the sum of all of your unique, active subscribers in your account.
The bar graph shows a visual representation of opt in to particular forms. Simply hover over particular bars to see total opt-ins to that form, on a given day.
Your form graph usually shows the default view for the last 30 days. But you can click on the date selector to modify the date range.
What date range would you like to view?
You can easily select and your graph will change automatically and display your total opt-ins for that period in contrast to your current account total.
Subscriber Graph Reporting
Subscriber graph is a new feature in ConvertKit that lets you see account wide graph for subscriber growth in real time.
The previous form graph that ConvertKit started with only shows the number of subscriber sign-ups which is somewhat inaccurate or incomplete because there's no way to know unique subscribers. Subscribers from other sources (such as integrations and imports) are equally not reported.
That's what the new Subscriber Graph changed.
You can now see subscriber growth for your account.
The new subscriber graph has capability to report unsubscribes and net growth over a period of time.
Much like the form graph, the subscriber graph allows you to change the date range. It also uses subscriber graph, segments and broadcasts in reporting.
Navid's Note:
I like the account wide reporting for both subscribers, unique subscribers, and even unsubscribes. It's overall pretty easy to understand.
That said, ConvertKit doesn't offer the best tracking and reporting features yet, and it's quite limited. For example, I'm not sure why they don't track bounce rate after sending out broadcast emails.
5. ConvertKit Email Sequences
ConvertKit Email Sequences is another powerful feature that make it possible to send a series of targeted and timed emails to a subscriber the moment they sign up, or when a subscriber is first added to the sequence by another action.
If you're promoting an online course or running a virtual summit, an automated email sequence is important. A welcome series and other purposes can fit right into your email sequences.
Creating your first sequence is easy. When you create a new form, you even click into your Sequences tab, and then use the Create New Sequence tab.
After clicking this button, name your sequence and click Create Sequence. At this point, your first email template will appear.
Then you can enter your subject line and add your content. It'll automatically populate in draft.
This is the full overview of a ConvertKit sequence, which makes it super easy to see all your emails. Other email marketing tools should take after ConvertKit here.
Navid's Note:
Creating a Sequence in ConvertKit is very easy. You can create multiple sequences and schedule them. That said, the options are quite limited in sequences. I recommend setting things up in the visual automation builder instead as that will give you many more options.
6. ConvertKit Subscribers
You get to see every information about your subscriber: What tags and segment they belong to, their status, and how to move them around from one segment or tag to the other.
When you log into your ConvertKit account, your default Subscriber Page looks like this:
By default, you'll see a list of 30 most recently confirmed subscribers and the specific date they subscribed.
Subscriber Status
To view subscriber Status, use the menu arrows next to the Confirmed Subscribers main heading. This allows you to switch between the various Subscriber states.
Navid's Note:
It's overall easy to track your subscriber growth in ConvertKit and it's very intuitive compared to some other email marketing services. They put the subscriber growth graph front and center which is great.
7. ConvertKit Broadcast Emails
Broadcast emails are those emails you send to all your subscribers at the same time, or specific segments of your entire list. It's very easy to set things up.
After writing the email, don't just send it -- make sure to preview it to see what it looks like first.
You could preview your email in the browser, or in your inbox. Here's what they'll look like, in your account:
Browser:
Inbox:
The field, by default, will automatically pre-fill with your login email address. With a single click, you can preview your current email in your inbox.
This is important because it prevents you from sending broadcast emails that don't depict what you have in mind.
Once you're happy with the preview, go right ahead and send it to your subscribers.
Or you could add filter group so that your broadcast email goes out to only the subscribers you truly want to reach.
Navid's Note:
It's very easy to send single email broadcast to all subscribers at once. The ability to preview broadcast email first before sending it out is also very intuitive. Adding filter group isn't 100% clear and it can be a little bit confusing to beginners (but not too hard to learn quickly).
8. ConvertKit Segmentation
In ConvertKit, you can create segmentation by tagging subscribers and then grouping your tags together. In essence, you'll be using tags to organize people.
Then, use segments to organize the tags.
Audience segmentation in ConvertKit
To segment your subscribers, you need to know where they're on their journey.
When you're armed with this information about the subscriber, you're better positioned to know the knowledge, engagement, and disposition that your subscriber has with your topic.
This can guide you on what kind of product to recommend to how much educational and informative content you need to prepare.
Step 1: Create an entry point for your subscriber
That is, define where your subscriber is coming in contact with you. Is it via landing pages or newsletter? Maybe it's a form on your blog sidebar.
Click on the automations tab in your dashboard navigation.
Click the new automations button to create your valuable email funnel
Click on the create automation button right in the middle of the page and choose subscriber joins a form.
Choose one of your previously created form from the drop down, or create a new form by following the link below the drop down.
Click add event.
Step 2: Subscribe user to a dedicated email sequence
When someone opt-in to your form, you want them to enter a particular email sequence you have created to nurture and build trust with them.
Click on the (+), and under action, choose email sequence, and scroll the drop down to find your email sequence.
Step 3: Create your Link Triggers:
Link triggers allow you to personalize your messages to your subscribers based on their specific needs and interest.
Here's how to create link triggers:
Click the (+) and under event, choose tag. Scroll through the drop down to find your tag.
Click add action.
To add the next link trigger, click the (+) to the right of your first event box and follow the same steps as above.
Keep up with this process of adding event boxes next to each other until you're done creating all the link triggers that are required for this email sequence.
Step 4: Connect Link Triggers to specific email sequences
Make sure you connect each link trigger to a relevant email sequence to start creating that personalized experienced for your subscribers.
Here's how to do it:
Below each of the event tag box, click the (+) and under action, choose email sequence and scroll the drop down to find the particular email funnel that relates to that tag. You can even create a new sequence right there.
Step 5: Follow up with a pitch email sequence
At this point, you're ready to pitch one of your low-priced products since you have established a level of trust with your subscribers.
Here's how to do it:
Click (+) and under action, choose email sequence, and scroll the drop down to find your product pitch email funnel.
In the end, your subscribers will be segmented based on their interests, needs, and behaviors in the funnel.
This also means that your business can run on complete autopilot if your email sequence connects Visual Automations like this:
Navid's Note:
It's very easy to segment subscribers in ConvertKit using tags, custom fields and within visual automations/sequences. It's very easy to get started with even if you're new to email marketing automation.
9. ConvertKit A/B Testing
A/B testing is an important aspect of email marketing. Without it, you can't tell which of your subject lines could generate the best results.
In A/B split testing, you're comparing two versions of a single variable (such as the subject line).
By testing how a subscriber responds to variable A against Variable B, you'll know which subject line to use -- since it got the most clicks.
With ConvertKit, you can test your email campaigns and determine the winning variant.
To get started, a percentage of subscribers are randomly selected from your list and assigned to one or both subjects.
The goal is to determine a winner based on the open rate and overall performance of the subject line.
To set up your A/B testing option, log into your ConvertKit account. Click on the "Broadcast tab" and select "New Broadcast."
You'll see the A/B option at the right side of your subject line.
The rule of thumb is to run A/B tests when you have at least 1,000 active subscribers.
If your list size is 100 and you send the email, it means you'll get less than a 50% open rate. The winning subject line will be biased because the number of recipients was small.
Navid's Note:
I can split test two or more variants of my email subject lines.
It's easy to set up a simple A/B test campaign for your subject lines. ConvertKit's A/B testing is pretty basic. Advanced testing functionalities are still missing (although that's the case with most email service providers).
10. ConvertKit Email Templates
ConvertKit offers some email templates designed to help you get more profits.
The company takes a firm stance that emails should be written as simply as possible without messing around with heavy graphics, images, and codes.
ConvertKit gives you 3 default templates to choose from for your emails:
Text Only
The Text-only templates aren't just plain text. You'll find a bit of simple HTML and CSS Formatting to make your emails nice and easy to read when it lands on your subscriber's inbox.
Here's the Classic template sample:
And the Modern template sample:
Customizing your templates
When you select any email template from the collections, you can customize it. Here's how to create a custom template.
Head over to your Account Page > Email Template.
Open the 'Text Only' template or any template you want and copy all the text.
Create a new template, and paste your copied text into the box.
Remember that you can make quick edits to your template, using ConvertKit's default structure as a framework.
Navid's Note:
I tend to just use the text or classic email template and that works fine for most people too. If you decide to create your own email templates, you need to write a bit of HTML code as ConvertKit don't have a drag and drop email builder.
ConvertKit Support & Documentation
Based on my own personal experience being a ConvertKit user for quite some time, their support is very solid and I've always received great service from them.
ConvertKit offers its customers a 24/7 support. There's no arguing the fact that growing a business through email marketing is tough.
That's why ConvertKit is available all the way to answer your questions -- from the basics of building an email form to learning how to increase your subscriber base to learning advanced email marketing strategies.
You can either get in touch with a customer support by sending an email or take advantage of the live chat (a new feature).
Apart from the email and live chat, ConvertKit also offers educational training materials, provides a lot of online resources and help documentation.
The knowledge-base section consists of helpful articles that answer general questions.
If you don't find what you're looking for, simply search for it.
Here's a great pic of the awesome ConvertKit team who will be supporting you.
ConvertKit also have a very engaged and supportive Facebook group. The founder Nathan Barry and his team posts updates from time to time, and the community helps each other out every day in there.
ConvertKit & GDPR
ConvertKit takes compliancy seriously, that's why Nathan and his team has created several new tools, forms, and support processes to help you build and manage subscribers while staying compliant with the General Data Protection Regulation (GDPR).
There's no need to clutter your forms when gathering consent from anyone or just visitors with the EU.
Simply enable the feature at the account level -- which redirects visitors to a dedicated GDPR consent page once they subscribe. This is the best way to get their consent without cluttering the opt-in form on your site with checkboxes.
Note: I highly recommend you consult with an attorney and authorities in your country regarding GDPR compliance. There's different ways to do this which I won't get into in this ConvertKit review.
ConvertKit Pros
We've summarized some of the pros of ConvertKit earlier but it's important we define exactly what those pros can help you achieve.
This should give you an idea as to what you can do with ConvertKit if you decide to try it.
Easy-to-customize opt-in forms: Choose an opt-in form from the templates and use the visual builder to customize it. Then copy the embed code and paste on your website.
Personalized emails: Send emails that are guaranteed to reach your subscriber's inbox. Use the simple email designs and layouts to write emails that have the feel and look you want.
Visual automation builder: Build high-converting automations that works for you based on a subscriber's action. Send emails on autopilot and increase your profits while you're asleep.
Subscriber tagging: Utilize the "tagging" feature to segment your subscribers even better; choose the content a subscriber will see based on their interests. This conditional content works best in both Broadcasts and Sequences.
A/B testing: Test multiple variables to determine the best performing email, landing page, or automations.
Create dynamic emails with merge tags: This allows you to personalize at a deeper level based on the tags you've assigned your subscribers.
ConvertKit Cons
ConvertKit does have its downsides and in this section I want to help you understand some of the cons and the things you can't currently do with the email marketing tool.
Inability to score leads: Lead scoring is an important aspect of email marketing because you can use it to determine the worthiness of leads and potential customers. ConvertKit doesn't have lead scoring functionality at this time.
Ugly native forms: The native forms that ConvertKit offers to users aren't beautiful. And it's because ConvertKit believes in simple email designs that don't use images or graphics. However, you can pretty much customize the forms with CSS if you can.
Limited Automations: Even though ConvertKit allows businesses to create automations, it's still basic compared to advanced automations that ActiveCampaign offers.
Limited A/B testing: You can't do an advanced split testing in ConvertKit. It's limited to email subjects, and a few other elements.
ConvertKit Alternatives And Comparison Vs Other Email Services
With countless email marketing software tools already in the marketplace, how do you decide which one to leverage for building and growing your email list, influence and revenue?
I this section of the ultimate ConvertKit review, I'll talk more about different ConvertKit alternatives such as Mailchimp, ActiveCampaign, Drip, AWeber and Infusionsoft.
Let's get into the comparison...
1. ConvertKit Vs Mailchimp
As we compare ConvertKit Vs Mailchimp, our goal is to understand the audience that these email marketing platforms target.
Both Mailchimp and ConvertKit were designed for online creators, early-stage startup businesses, and ecommerce entrepreneurs.
Both tools are great for starting out your list building, engaging with your subscribers, following up on existing customers, creating opt-in forms for your website and running campaigns to generate income through email marketing.
Mailchimp Pros
Easy to use with simple drag-and-drop visual builder.
MailChimp is free for your first 2,000 subscribers and 12,000 emails.
MailChimp integrates with ecommerce platforms without requiring Zapier.
Mailchimp integrates with ecommerce platforms without requiring Zapier. Mobile-responsive email templates that fits perfectly on any device (mobile & desktop).
Detailed reporting statistics.
Mailchimp Cons
The default settings on Mailchimp are ugly, boring fonts that requires customization.
It's list-centric solution, which means you pay double for the same subscriber if they are on two lists (this is ridiculous and a massive con for me!).
Poor customer support (the team doesn't respond to support tickets on time)
MailChimp is complicated. Campaigns are grouped together with automations, etc.
Which Is Better For You, ConvertKit or Mailchimp?
If you're just starting out and wants to begin your email marketing campaigns without paying a dime? Then you should use Mailchimp because it's 100% free for your first 2,000 subscribers (although it's not that powerful and you can't really do any automated sequences).
On the other hand, ConvertKit can help you create high-converting emails, set up automations using the visual builder and tag subscribers.
Comparing it to Mailchimp, there's no real competition when it comes to the features you need as an online creator and I highly recommend ConvertKit.
2. ConvertKit Vs ActiveCampaign
When online creators are looking to switch from their email provider to a better one, ConvertKit and ActiveCampaign often come to mind. Why?
Because ActiveCampaign and ConvertKit are similar at face value.
They are also a hybrid of CRM/email marketing system which makes gives them an edge over other email marketing software tools out there.
Yes, their functionality is similar but the differences are clear. Let's see:
ActiveCampaign Pros
ActiveCampaign is pretty easy to use when you get into it. Send personalized emails and set up automations with just a few clicks.
Advanced automations that are easy to learn and use.
Create and monitor campaigns, deal flows, and automations.
Drag-and-drop email designer and clean interface.
Integrates with over 100 tools and more via Zapier integration.
ActiveCampaign notifies you about your workflows, prompting you to define an outcome.
Customized lead scoring and reporting.
High-converting email templates for your campaigns.
Unlimited storage space within the image manager.
Email deliverability is great.
Use data-driven insights to segment contacts based on their interests.
Send automated SMS notifications to your contacts.
Built-in CRM allows your sales and marketing teams to communicate with prospects.
ActiveCampaign Cons
It runs slightly slow at times, although they said they've improved it.
Some things take a few more clicks to achieve than I would like (for example, instead of 4-5 clicks, it should be done with just 1-2 clicks).
Customized branding is only available with the Small business & Enterprise plans.
Which Is Better For You, ConvertKit or ActiveCampaign?
Both ConvertKit and ActiveCampaign are designed to help businesses handle complex email automations.
ConvertKit's visual automations builder is clean but basic. If you're just getting started with automations, you can start with ConvertKit as it's easier to use.
But if you want more advanced email automations, I highly recommend ActiveCampaign.
3. ConvertKit Vs Drip
Drip is almost identical to ConvertKit but has more advanced features and integrations for running multiple email campaigns.
Drip offers a Free Forever Plan where you can manage 100 subscribers or less.
But there are other essential features you need to know and how it compares to ConvertKit.
Drip Pros
Clean and professional opt-in forms that are easy to customize.
Show custom CTA to your website users with Drip.jst.
Create high-converting automations rules and workflows with the Visual Workflow Builder.
Tag subscribers based on their actions.
Built-in performance tracking for open rates, subscription rates, etc.
Lead scoring functionality that will score your leads on autopilot.
More advanced automations and segmentation.
Drip Cons
No landing page builder.
Automations and workflows can get quite complicated at times.
Drip is expensive on a per-subscriber basis, especially when you send large bulks of emails.
Which Is Better For You, ConvertKit or Drip?
ConvertKit has many similar features as Drip.
When you're looking for a simple and clean user interface, I recommend ConvertKit. It's also much easier to get started with, and the learning curve is not very long to get used to it.
If you want to effectively engage with your subscribers and channel them through the right path, Drip's workflow can help you achieve that.
4. ConvertKit Vs AWeber
AWeber has been a popular email marketing solution for designing beautiful HTML emails, and some bigger marketers still use it (such as Ryan Lee, Brian Dean etc).
ConvertKit is fairly new in the block but it's equipped with powerful features such as visual automations, subscriber tagging, and email sequences.
AWeber Pros
AWeber is fairly easy to use.
Over 700 email templates.
Drag-and-Drop editor for easy customization.
Clean reporting.
Live chat, email, and phone support.
Integrations with popular third-party platforms.
AWeber Cons
Basic marketing automation functionality.
List centric (as supposed to subscriber centric), which means you pay twice if a subscriber is on two lists (makes absolutely no sense at all).
Unsubscribes are still charged (as long as they're in your system).
Moving between lists is difficult.
Which Is Better For You, ConvertKit or AWeber?
ConvertKit can take your email marketing efforts to another level.
I would not even recommend AWeber to you if you're a beginner, as ConvertKit is a much better place to start.
It's better to get familiar with how to create automations and tag subscribers right from the beginning, so I'd say without a doubt, go for ConvertKit.
5. ConvertKit Vs Infusionsoft
Infusionsoft is a full-suite marketing software designed to help small businesses run automated marketing campaigns.
ConvertKit on the other hand is an email marketing tool that has some marketing automation functionalities.
Both solutions help you create automations, segment leads, and send emails to subscribers.
Infusionsoft Pros
Drag-and-Drop visual campaign builder.
Drag-and-Drop automation campaigns.
All-in-one marketing solution (full CRM).
Pre-made high-converting automation campaign templates.
Track visitors' activity on your website.
Lead scoring enabled.
Custom sales reporting.
Shopping cart functionality (although it's not the best out of the box).
Mobile-optimized landing templates you customize with the builder.
Mobile app.
Integrates with Quickbooks, Zapier, Gmail, and other tools.
Infusionsoft Cons
User interface is complicated.
Built-in email templates are clunky.
Limited content personalization capability.
Can get expensive if you need to hire a marketing automation team to help you ($2,000 or more per month).
No WordPress plugin.
No migration services.
Which Is Better For You, ConvertKit or Infusionsoft?
If you're looking for a complete marketing automation software and advanced features for ecommerce or enterprise customer relationship management, InfusionSoft is your best bet (although I would personally go for ActiveCampaign over Infusionsoft, which is exactly what I did).
On the other hand, if you want to send beautiful and personalized emails and create basic automations to grow your business, I recommend ConvertKit (and you don't need to rely on an overpriced marketing automation team to run your business.
ConvertKit Pricing
At this point, it's important to step back and look at ConvertKit to fully understand what the pricing is, what features to expect, and whether or not you're getting value for your money.
ConvertKit Pricing Options
ConvertKit has packages that are priced according to list size. Prices range from $29 to $3,999 per month. For example, users with up to 1,000 subscribers will pay $29 monthly.
ConvertKit has different packages based on list size. Here's a breakdown:
0 - 1,000 subscribers: $29/month
1,000 - 3,000 subscribers: $49/month
3,000 - 5,000 subscribers: $79/month
Note: If the number of subscribers you have exceeds 5,000, you can calculate how much it'd cost. A great deal from ConvertKit is that when you pay annually, you get 12 months for the price of 10.
ConvertKit Free Trial
From ConvertKit's website, you get a 14-day free trial but I have a special deal to offer my readers and audience a 30-Day free trial.
You should take advantage of it if you think that ConvertKit is a good fit for you. Just click the button below to get started.
ConvertKit FAQs
Choosing the right email marketing platform can seem like a difficult task. I know because I have used most of the tools myself.
Let's tackle some of the Frequently Asked Questions (FAQs) for ConvertKit that people tend to ask before they sign up for an account.
Do my subscribers have to opt-in again when I switch to ConvertKit?
No, ConvertKit trusts you and will ensure you don't send re-confirmation email. But don't try to switch over with purchased lists or do anything spammy.
Can I import my existing subscribers into ConvertKit?
Yes, ConvertKit has made it really easy to switch from another email tool and important subscribers. There's no worry.
Will ConvertKit do the migration for me?
Yes, if you have a mid-size or large account (starting at $99/month), then ConvertKit will move all your forms, courses, and subscribers.
Why is ConvertKit more expensive than Mailchimp and AWeber?
Yes, the list price for ConvertKit may seem higher than MailChimp and even AWeber but you get a lot of features and functionality such as Automations, subscriber tagging, and more. That kind of pays for itself.
How should I go about making the switch to ConvertKit?
You need to see your status in the current system and figure out what data you need to migrate to ConvertKit. Next, you can migrate contacts by switching accounts accordingly.
Are subscribers taken out of an Automation when they get to the end?
Yes, Visual Automations will seamlessly unsubscribe users from a sequence when they have received all of the published emails, which means they have successfully completed the Sequence.
Do Events affect subscribers in the contact list?
No, Events are only relevant to the Automation you set up. In this light, Events will only have impact on subscribers that have successfully entered into the Automation.
Does the free trial come with all the features?
Yes, once you subscribed to the 14-day free trial (get 30-day free trial here), you have 100% access to advanced features that you can try yourself such as automations, tagging, etc.
ConvertKit Reviews (Other Customers)
What experiences do online businesses and online creators have with ConvertKit?
Here are a few ConvertKit reviews and testimonials from existing customers who's currently using ConvertKit as their email marketing software of choice:
The Bottom Line: My ConvertKit Review
Thank you for taking the time to read this in-depth ConvertKit Review and demo.
ConvertKit is a powerful, yet easy to use email marketing platform that will grow with your business.
You can't really go wrong with ConvertKit if you're just getting started with email marketing, or don't have the need for more advanced email automations.
I personally use ConvertKit for one of my lists, and I've always found the experience great. Try it free for 30 days to see if it's for you.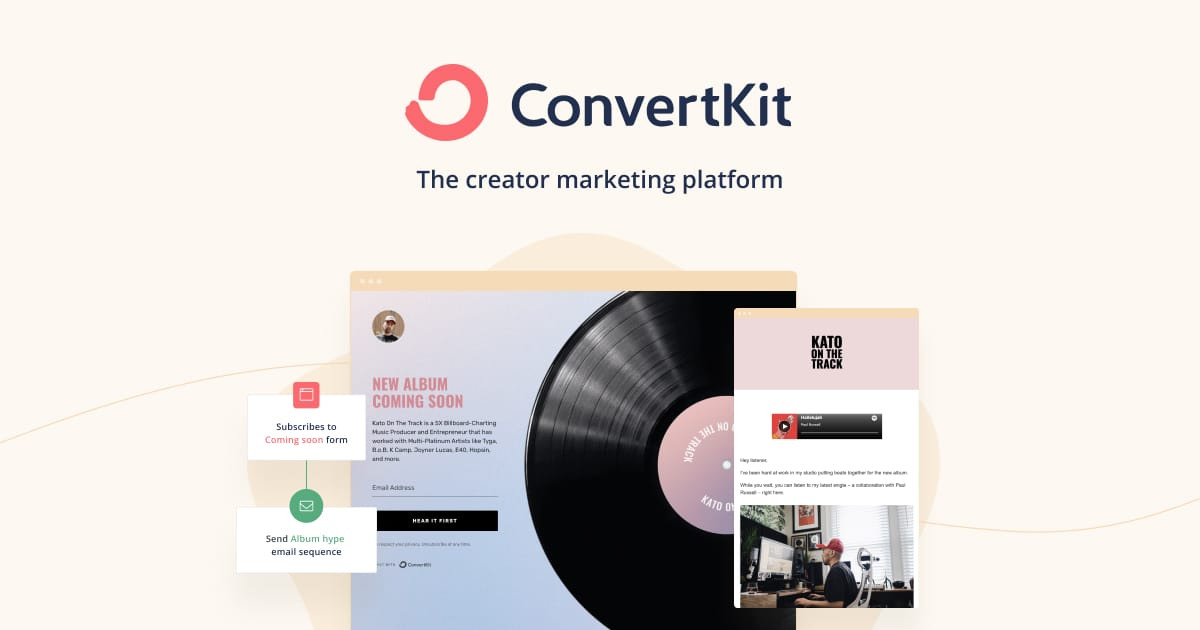 So what do you think of this ConvertKit review? Is ConvertKit a fit to help you build and grow your business?
​Let me know in the comments below... I'd love to hear from you!